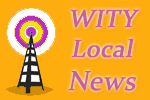 WITY remembers Don Ward and Ted Baer
WITY recently lost two of our close family members. Donald E. Ward was President of Vermilion Broadcasting Corporation that owned WITY from 1981 to 2009. Mr. Ward grew up in Illinois and graduated from the University of Illinois School of Law in 1955. He practiced communications law in the Washington, DC, area for over 40 years. In 1981, Mr. Ward purchased WITY from its original owners along with local attorney and classmate, Dick Bates. Mr. Ward became the sole owner in the late 80s.
In 1994, Mr. Ward brought David Brown from Iowa to manage WITY as the general manager. Later, Mr. Brown became part owner, and eventually purchased WITY at the end of 2009 so Mr. Ward could fully retire from broadcasting. David Brown had known Mr. Ward since 1991 and welcomed the opportunity to come to Danville. According to Brown, "It was an absolute honor and pleasure to work with and for Mr. Ward. He was not only my boss but a true friend as well. He supported local broadcasting and WITY greatly."
Mr. Ward leaves behind his wife, Sanae, 4 children, and several grandchildren. He will be greatly missed.
Another family member passed away on December 11. Ted Baer started his career at WITY radio and had the opportunity to move on to larger markets in several states. Baer came back to WITY to finish out his radio career about 15 years ago. David Brown remembers Mr. Baer as very loyal to the radio station and a true team player.
Ted was born in Danville in 1941 and graduated from Danville High School in 1959. He later attended Danville Junior College and served in the United States Air Force from 1962-1966. Ted was a member of Congregation Anshe Knesset Israel in Danville for several years, until its closing. He also owned Baer's Clock Shop from 1993-2010.
He is survived by his wife, Maryellen, his five children, and brother, Milton. Ted had never met a stranger and loved to tell stories with a personality could light up any room. He will be remembered as an outstanding radio personality, a good friend, and a memorable part of WITY.
Listen to WITY on your mobile device with TuneIn!